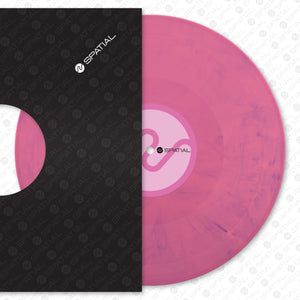 Spatial
Aural Imbalance - Planetary Formation 12"
Regular price
€14,00
€0,00
Unit price
per
A1 - Parallel Universe

Kicking off the EP in style, Parallel Universe lays down classic amens straight out of the late 90's - a slickly crafted pattern looping around the muted palette of subtle funk melodies and luscious ambience. This is Aural Imbalance flexing his amen editing talents as well as those inimitable, enchanting chill-out vibes he constructs so well.

A2 - Warming Sine

A crisp DJ-friendly breakbeat introduces Warming Sine, welcoming a mellow collage of 808 bass and textured backdrops before hi-hats usher along the pace. The breakdown teases washes of aural meditation before we are lifted gracefully up by the beats once more, drifting through the skies as twilight sets in.

AA1 - Syren of Hyperion

Analogue kickdrums freckle the landscape of Syren of Hyperion, a blissful roller that envelops the listener with layer upon layer of playful synths and keys. A slight hint of menace lingers tonally, contrasting the soothing auricular scenery, showcasing the variety in Aural Imbalance's musical skillset.

AA2 - Genesis

Closing the EP we have Genesis, a beautiful sugary rush of wisping atmospheric delights, building an effective, catchy beat pattern throughout with exquisite balance. The composition exudes a smooth, tranquil energy as the use of gentle FX channel the unfurling emergence of dawn in a forest bustling with fauna. A wonderful piece.

Words by Chris Hayes (Spatial / Red Mist)
- Marbled Vinyl 12" in Spatial Sleeve
- Black Paper Inners
- Free WAVs via an emailed download link
---
Share this Product
---