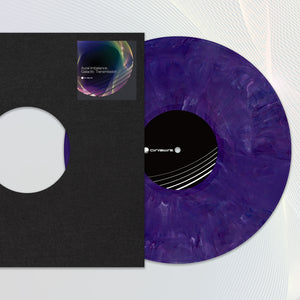 Curvature
Aural Imbalance - Galactic Transmission [pre order] 12"
Regular price
€14,50
€0,00
Unit price
per
A1 - Better Day

Instant head-nodding is the first order of this stunning and varied opener to both the EP and the label, as Better Day begins with delightfully punchy breaks chopped to perfection, dancing over thick, warm bassline hits before vibrant melodies take shape. Soon the track is drenched in luscious atmospherics, invoking a sense of liberation while the beat pattern buries itself in the memory and the listener drifts into the kind of serenity only Aural Imbalance can craft.

A2 - Scratch The Surface

It is night. Light has long since faded and darkness has taken the horizon, but not all are content to rest. Cymbals and fluttering textures gather and spiral with growing curiosity, joined by electronic harmonies and dusky breakbeats seizing the ears. Gradually, the forming aural throng is layered with intricate layers of inquisitive detail, keys and synths wistfully encouraging all to join them in the post-twilight festivities.

AA1 - Different Times

Fans of late 90's atmospherics will truly rejoice here as Different Times takes us right back to that classic era. Echoing cymbals and hi hats build up the timeless vibe with knowing, purposeful 808 bass before an addictive crisp drum loop ushers the pace forward bound. The piece soon ramps up with dreamy, blippy melodies hugged by vast washes of whirling synthwork.

AA2 - Spiral

Closing the EP is Spiral, a track that fuses musical influences far & wide. A catchy, almost trancey melody introduces dense jungly analogue breakbeats with stuttering sci-fi FX cascading in the background. The solid thump of the distinctive kickdrum asserts a weight to the composition which welcomes element after element of eclectic ethereal energy to the mix, gelled together perfectly to form a delightful crescendo - a track you won't forget.

Words by Chris Hayes 

- Marbled Vinyl 12" with artwork sticker
- Free WAVs on or before the digital release date (01.12.2023) via emailed download link. Bandcamp code is available on request

THIS IS A PRE-ORDER ITEM and if purchased will be despatched for delivery on or before Friday 08th December. Please note! Other items in your basket will also be held until this date.


---
Share this Product
---