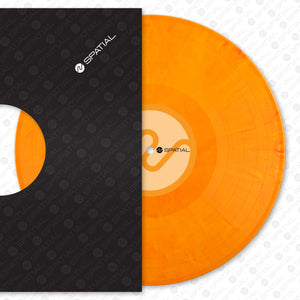 Spatial
ASC - Thematic Function 12"
Regular price
€14,00
€0,00
Unit price
per
A1 - Burst Transmission

ASC returns with another stellar solo EP and Burst Transmission dives straight in head first to kick things off, pulsing crafted breakbeats and computer FX intertwine and stack with smooth synths, keys and trademark vocal hits. A powerful undertone bassline perfect for the dancefloor keeps the momentum going with blissful speckles of detail in the composition, including expertly tuned bongo drums scattered throughout.

A2 - Whispers

Sci-fi vibes take center stage as ASC channels that classic 720 energy with Whispers, a track which utilises sharp stabbing snares in distinct, forceful drum patterns which develop and adapt over halcyon synthwork. Respite comes in the middle of the track as the breaks change and settle the vibe briefly, before we are thrust forward again with those epic breaks commanding our attention once more.

AA1 - Psionic Bond

ASC continues the retro sci-fi vibes with Psionic Bond, entering with zapping laser FX and a haunting vocal sample echoing before thunderous breaks thrash their way into the track, epic kicks and sharp thrusting snares dominate proceedings while through the whooshing layers of synthwork a distinctive bassy melody elevates the composition. This one is going to send the lucky discerning dancefloor into extra-sensory fever.

AA2 - Future Music

Ending the EP with something a little different, Future Music gives us a true taste of the old school brand new. A building intro lashes you with jabbing bass and effects, classic hi-hats rattle and slowly the 90's jungle breakbeat edits are released in waves as the piece progresses. The construction of the breaks is staggered sparingly, weaved expertly with an influx of effects and samples creating a truly unique experience. 
- Marbled Vinyl 12" in Spatial Sleeve
- Black Paper Inners
- Free WAVs via an emailed download link on or before the digital release date - 07.07.2023
---
Share this Product
---