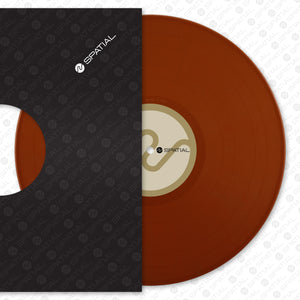 Spatial
ASC & Aural Imbalance - The Other Side 12"
Regular price
€14,00
€0,00
Unit price
per
A1 - Continuum
Teaming up once again the original Spatial production duo open their latest EP serving up a thumping onslaught of amen goodness with Continuum, a track which takes the classic Demon's Theme break and carves it to bits unreservedly with a myriad of chops, cuts & edits. We are treated to some delicious filter work later in the track over a shimmering backdrop of synthwork, glazed with a bunch of micro melodies, bleeps and FX.
A2 - Depth Perception
Meticulously constructed vintage breakbeats immediately set a brisk tone with Depth Perception before a blissful early interlude reminds us to sit back and take a breath, before our breaks return - blanketed with an introspective layer of serene synths & keys which somehow combine perfectly, resulting in a tonal mosaic only ASC & Aural Imbalance can conjure up with their combined skillset.
AA1 - Distant Orbit
Next up an unsettling, melancholic intro tenuously launches classic atmospheric breaks delivered with that crisp, old school brand new punch we have come to love from the distinctive style of drum &
 

bass Spatial is showcasing and developing with each release. Powered with a lively bassline, it's easy to lose yourself in this piece as the track lives up to its title and sends the listener far beyond the confines of their speakers.

AA2 - Cold Front

An intriguing, inquisitive energy opens Cold Front with an assortment of breakbeats woven together exquisitely in a collage format, DJ-friendly yet mellow at once. The dialed-back airy backdrops showcase a glorious intricacy to the breaks, so detailed with unmatched clarity - they almost possess an ASMR-like quality, offering new discoveries to the ear each time on repeated listens.
- Marbled Vinyl 12" in Spatial Sleeve
- Black Paper Inners
- Free WAVs via an emailed download link on or before the digital release date - 07.07.2023
---
Share this Product
---