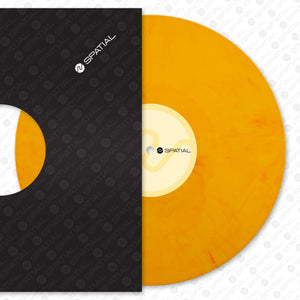 Spatial
ASC & Aural Imbalance - Interstellar Transmissions 12"
Regular price
€14,00
€0,00
Unit price
per
A1 - Ascension

Joining forces for the opening track of their first collaborative EP, Spatial's premier duo serve up a solid amen composition, combining ASC's trademark impeccably-engineered crisp breaks with the dreamy sauntering backdrops you know and love from Aural Imbalance. Filters and rolling kick drums carry the reminiscent rhythms along with an understated intersection coloured with tranquil processed vocal samples.

A2 - Focal Point

A peaceful, serene affair is in store with Focal Point, opening with a delicate break pattern gradually summoning an airy aural soundscape of smooth synths, exquisite pads, and a fine, subtle bassline. The halfway point ushers a lush breakdown with gentle effects conjuring images of playful aquatic life dancing through the audio esthesis.

AA1 - Solar Rays

Solar Rays whisks you on a cosmic voyage through its melodic, progressive soundscape punctuated with a mixed array of vocal imagery, uncertain yet fluid in tone. A backbone of precise apache breaks craft a vibe that will transport the listener far beyond terra firma to an effectual luminary tranquility.

AA2 - Overcast Skies

The aptly-titled Overcast Skies immediately surrounds you with a windswept melancholy via ambient pad work, ethereal melodies, and restrained basslines. Thumping kicks and breaks bring an anxious energy to the composition while misty horns periodically plead at you from the blanket of cloud enveloping the spirit of the piece.

Words by Chris Hayes (Spatial / Red Mist)
- Marbled Vinyl 12" in Spatial Sleeve
- Black Paper Inners
- Free WAVs via an emailed download link
---
Share this Product
---